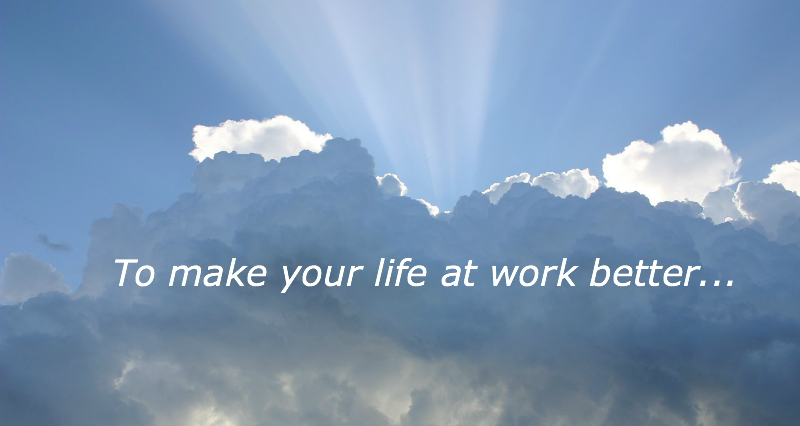 The Problems Employees Face
Do you spend much time talking about how things could be better at work?
Do you ever think: "I hate my job!"

If you want to harness that energy towards positive change in your life at work, the learning modules below can help. Organizational consultants usually support leaders at the top of organizations. Employees also have the ability to develop their knowledge and empowerment to make their lives at work better. These online learning modules explore ways to do that at a cost that's affordable to employees at all levels ($15 per module).
Learning Objectives
To empower employees:
to make your life at work better – even when there's craziness around you
with tools and knowledge you can use in conversations about your work environment
to articulate your point of view and gain confidence in yourself
After completing the first module, you will also be able to join the member discussion community (coming soon!), where you can practice these skills with others, and support each other through workplace challenges.
Topics We Will Cover
Ways to be more present and calm in the face of stressful situations
Tools for dealing with people you find challenging in the workplace (including steps based on the work of Marshall Rosenberg)
How to make your job more rewarding, meaningful and beneficial to you
Facts about why good employee morale is important for companies – which you can use in conversations with your boss or others at work
Learning Modules
A note about the pricing for these modules:
Many business advisors say that setting prices low will mean that people won't value what's being offered. One of the goals of Employee Point though, is to make resources and support affordable to employees at all levels and in all industries. So the prices for these modules is being set low, at $15.00 per module. You are invited to value them despite the fact that they're being made affordable for you – and maybe even because of it! Imagine, if you will, how much you would value them if they were $199 per module, and keep thinking of them that way as you go through them. Enjoy! 🙂
Click below to purchase learning modules.
Learning Modules – Thrive at Work
Thrive at Work – Learning Module 01 – Places to Start – This module is a starting place about how to make your life at work happier – starting with you. It is also an overview of the other modules, and includes some fundamental steps from each of them.
Coming Soon
Thrive at Work – Learning Module 02 – Ways to Center – This module explores further what it means to be centred, how it impacts our whole lives, and ways to develop the ability to be more centred.
Thrive at Work – Learning Module 03 – Ways to Communicate for Greater Impact – This module explores more about ways to communicate your concerns in the workplace which are less likely to evoke defensiveness in others and includes learning about non-violent communication.
Thrive at Work – Learning Module 04 – Ways to Make a Workplace Healthy – This module will prepare employees further to have research based information at their fingertips which they can use in conversations with their boss or other leaders in their organizations to influence the likelihood of positive change. It also covers theories and tools that consultants and other organizations do to move an organization towards healthiness – and things employees can try if there is an opening for change initiatives in their workplace.
Sign up for the newsletter to learn when further modules will become available: